4TH ANNUAL PR SUMMIT CONFERENCE PRESENTED BY IDOMOO
We share information that generates bottom line results...
1. Hear top media infuencers & entrepreneurs discuss the latest trends and best practices in business communications.
2. Learn new content and storytelling strategies.
3. Learn how social media is changing news gathering and reporting, particularly where Twitter is concerned.
4. We'll teach you how to identify new communication and marketing channels.
*Click here for Discount Tickets*
The PR Summit brings together top thought leaders and enigmatic personalities across a wide range of industries, to discuss pain-points, disruptive ideas, and how new content strategies can affect a companies bottom line. This curation has a compass focused on how content creation, real-time personalization, SEO, and story-telling is shaping the business & consumer landscape. Our desired goal is to help business professionals anticipate the shifts and changes in the market place. We'll showcase how consumer attitudes and social media continue to play a broader role in transforming the way we engage and interact.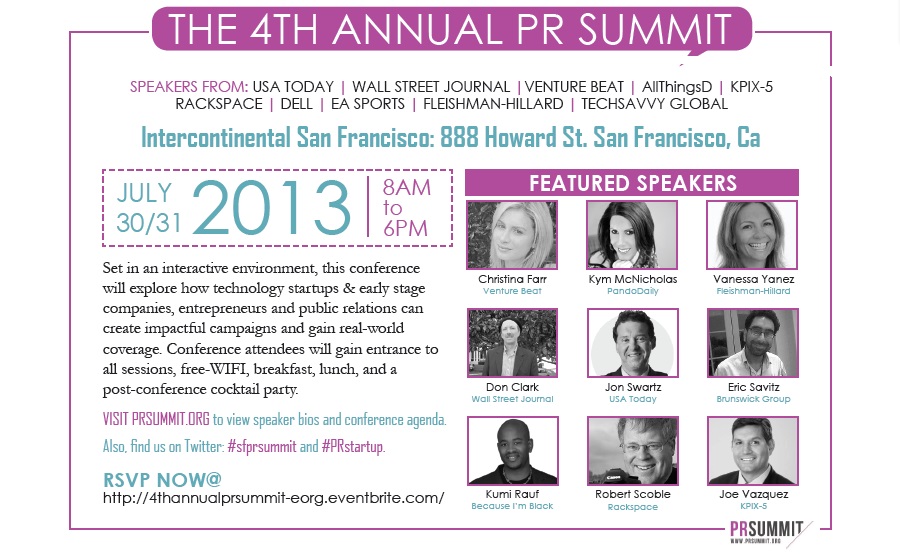 ---
A conference pass includes the following details:
Access to all panel discussions, free WIFI, continental breakfast, roundtable lunch off-site. (Lunch is provided both days to paid attendees, speakers, sponsors and select media ONLY.)
This year's PR Summit will take place, Tuesday, July 30th, and Wednesday, July 31st at the Intercontinental Hotel in San Francisco, CA.
PAID attendees receive our 'Conference Swag BAG! Which includes a copy of Brian Solis' new book, "What's The Future of Business"
Post-Conference After Party & Networking (Both Days)
Group discounts are available for (4) or more persons attending from the same company or agency. Please email info@prsummit.org to inquire about specifics.
Tickets are transferable (w/limitations) but non-refundable.
We also accept company invoicing as well. Payment must be received before 7/27/2013. Please email info@prsummit.org to inquire about greater specifics.
Please note: Confirmed speakers may cancel at the last minute, due to scheduling conflicts, or personal reasons.
The PR Summit will be LIVE-STREAMED ON USTREAM TV, click here for more details!
Mix with professional enthusiasts & media.
Make connections & introductions to potential deals and education on how communications and today's media relations work.
*Click here for Discount Tickets*